As we all know, this is a great time of year to make chili. In fact, my husband and I couldn't wait to make our first batch a couple weeks ago, and quite enjoyed the leftovers as well! This time around I decided to try my hand at making white chili. White chili of course is white, due to ingredients like chicken and cannellini beans instead of beef and the usual chili beans. I had only tried it once and remembered it to be a delicious alternative to the traditional way of making it. I scoured AllRecipes for the version of the recipe that suited my taste and gave it a whirl. Here was the result:

PREP TIME: 10 Min
COOK TIME: 25 Min
READY IN: 35 Min
SERVING SIZE: 4

INGREDIENTS:

1 tablespoon olive oil
4 skinless, boneless chicken breast halves - cubed
1 onion, chopped
1 1/4 cups chicken broth
1 (4 ounce) can diced green chiles
1 teaspoon garlic powder
1 teaspoon ground cumin
1/2 teaspoon dried oregano
1/2 teaspoon dried cilantro
1/8 teaspoon cayenne pepper
1 (15 ounce) can cannellini beans, drained and rinsed
2 green onions, chopped
2 ounces shredded Monterey Jack cheese



DIRECTIONS:
1. Heat oil in a large saucepan over medium-high heat. Cook chicken and onion in oil 4 to 5 minutes, or until onion is tender.
2. Stir in the chicken broth, green chiles, garlic powder, cumin, oregano, cilantro, and cayenne pepper. Reduce heat, and simmer for 15 minutes.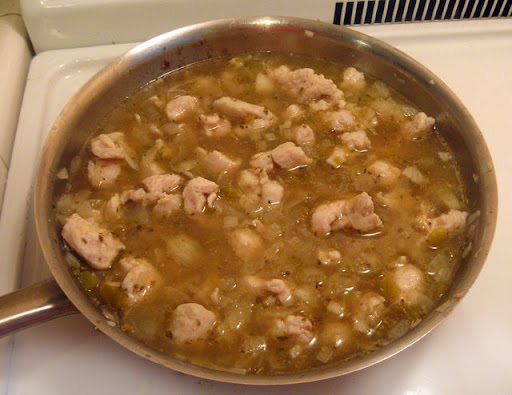 3. Stir in the beans, and simmer for 5 more minutes, or until chicken is no longer pink and juices run clear. Garnish with green onion and shredded cheese.
Along with garnishing the chili with Monterey Jack cheese, I topped off the meal by using the remainder of the Monterey Jack cheese to make white grilled cheese. I buttered the tops and bottom of the bread and added mayo to the inside for added flavor and to complete the look.
The only things I left out of this recipe were the cilantro and green onions. I don't care much for cilantro and the green onions were not really essential. It was quite an easy dish to make and the prep / cook time of 35 min is pretty accurate. The one change I would make next time is to cut the chicken into smaller cubes. Overall, a delicious dish perfect for the Fall and Winter seasons! You can find the link to the original website here,
AllRecipes: White Chili I